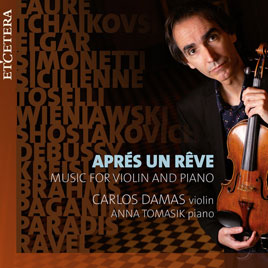 Sonograma Magazine
"The violinist shows off his expressiveness, grace, subtlety and charm, qualities that are particularly suitable for his romantic language, and he offers us an impeccably interpreted repertoire.
Damas finds in the romantic realm a good space to display resources of generous amplitude, a brilliant timbre and a phrasing of remarkable exquisiteness."
Josep Bosch - Sonograma Magazine
---
"To this writing of fine technical calculation, the violinist contributes with resolute mastery the singular luminosity of his instrument, the work of the Florentine Giovanni Battista Gabrielli (ca. 1767). A sound of crisp treble, warm golden center register, which becomes irresistible in the soft undulations of Debussy's Fille aux Cheveaux de Lin."
Alejandro Santini Dupeyrón - Revista Melómano
---
"Exceptions are also permitted, for example on the CD with the title "Après un Rêve" by the exceptional Portuguese violinist Carlos Damas. He is one of the most professional players of today, so that experts often mention him in the same breath as Gidon Kremer. Why this is so becomes clear when listening to this album, which breaks a lance for this instrument at every moment. And yes, the fascinating, blooming, corporeal tone in Carlos Damas play burns deeply into one's consciousness."
Stefan Pieper - Klassik-Heute